Website Design Services
Web Cloud Technology is Polish Company that specializes in providing Lead Generation service Through Google andFb ads. It founded in 2017 by a group of highly qualified Technocrats as a Centre for best in IT Industry at Delhi. WebCloud Technology holds the distinction of being a unique group, offering a variety of services with theircomprehensive service and online consultancy experiences. We not only offer our services to our direct corporate,but are also providing services on behalf of well- known organizations. Web Cloud Technology has severalcompetitiveadvantagesthatmakeourfirmanidealfitforyou.
Service
Wordpress E-commerce Website Creation(Delivery Time: 15 Days) .
---
Landing Page Creation
Design Features
Responsive Layout
Menu Section
Responsive Slider
Call-to-action-button
Contact us Form
Fast Loading speed
Lead Form
Header Section
Home
About Us
Service
Contact Us
Social Media Link (Facebook,Instagram&Youtube)
Footer Section
Policy
Support
Map
Follow Us
Copyright section
Integration
Live Chat Integration
Whats app Api integration
Call Button
Google-my-business Integration
On Page SEO
SEO Set-up
Google-Tag-Manager Set up
Google Analytics Set up
Google Search Console Set up
PlagiarismFreeContent 1400Words
SSL Certificate Integration
Youtube Link Integration
Whats AppLink integration
Social Media Links Integration (if required will aslo Create)
Terms & Conditions Page
Privacy Policy Page
Admin Panel Access Provide
Guide how to access Admin Panel
Maintenance
Monthly 1 Banner Change
Fixing Bugs
Daily Backup
Smooth Run
Leads sheet Provide
Monthly 1 New Page Create with 1400 words of content
On-Page Seo
Landing Page Hosting
Linux Super Fast Hosting - 6 month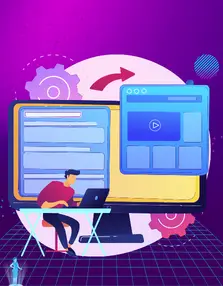 Live chat when you needed
Live chat can help you retain customers by resolving their issues quickly and easily.
Live chat is a great way to provide customer support and answer questions in real time. By integrating live chat into your website, you can make it easy for visitors to get help when they need it.There are many different live chat software solutions available, so you can choose one that fits your needs and budget. Once you've chosen a solution, you'll need to embed the live chat code on your website. This process is usually very simple.
Once the live chat code is in place, you can start chatting with visitors. You can also set up rules so that visitors are automatically routed to the right agent based on their question or issue.Live chat integration is a great way to improve the customer experience on your website. By providing quick and easy access to support, you can help visitors resolve their issues and get back to what they were doing.
Plan

The website will be used to promote the company's products and services, generate leads, and increase sales.

Analysis

This is a very brief overview of a website development analysis. A more detailed analysis would include additional information, such as the website's traffic, bounce rate, and conversion rate.

Great ROI

A well-designed, informative, and functional website can generate leads, increase sales, and build brand awareness.
Choose Your Service Packages
After trading for a few years we have learnt that the one size does not fit all. We try our best to tailor a package that meets your particular needs and stays within your budget.
Monthly Starting From – 12k/month
Paid Ads Strategy
Market Research & Analysis
Profile Creation
Classifiled Submission
Audience Analysis
3 Months Free Support
Get Started
Web Creation
Duplicate Content Check
Google Search Console
Search Engine Submission
Google My Business Setup and Verification
6 Months Free Support
Get Started
Search Engine Rank Report
Article Writing & Submission
PPT Submission
Social Book marking
Canonicalization
12 Months Free Support
Get Started